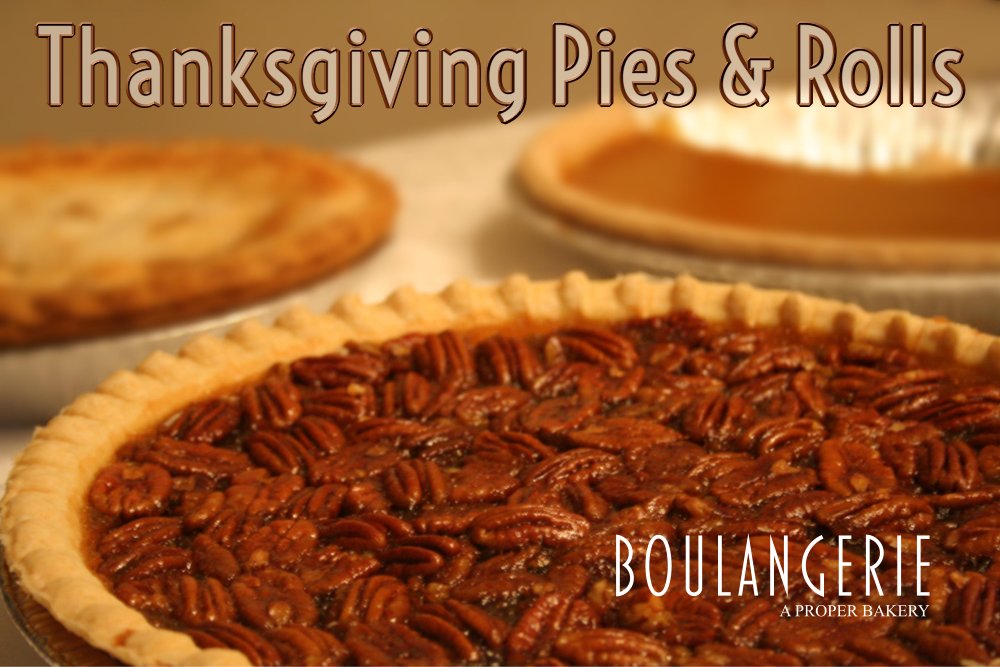 Thanksgiving Menu
Handmade at Boulangerie!
Pies for Thanksgiving
*** Handmade at Boulangerie ***
Dutch Apple Cranberry Pie

$28.00

Traditional Pumpkin Pie

$26.00

Maple Pecan Pie

$29.00
Rolls for Thanksgiving
Pecan Cranberry Soft Wheat Rolls

$1.40 each, $8.25 for 6, $16.50 for 12

Buttermilk Biscuits

$2.00 each, $12.00 for 6, $24.00 for 12

Soft White or Wheat Rolls

$0.75 each, $4.50 for 6, $8.75 for 12

Cornbread Loaf

$12.00

Available Gluten-Free
Thanksgiving Wine Selections
Honorie Sparkling Cider

$18.00

Normandy, France - A clear, sparkling, slightly foamy with a beautiful golden color and slightly orange cider. An intense nose with strong aromas of ripe fruit and a balance of bitterness and sweetness. The cider mixes fruity and round flavors that will accompany all your dishes, cheeses and desserts.

TabalÌ, Sauvignon Blanc, Grand Reserva

$15.00

LimarÍ Valley, Chile - is is a delicious Sauvignon Blanc from the Limari Valley located in the cool coastal region of northern Chile. With succulent aromas of citrus, tropical fruits, fresh ripe grapefruit and a hint of fresh grass. This is a full bodied wine with subtle minerality and balanced with zesty acidity.

Domaine Gilles Lesimple, Sancerre

$30.00

Loire, France - Aromas are nuances of citrus fruits, exotic fruits, floral notes, herbaceous notes, spices, and mineral. It wakes up the taste buds, allowing the perception of spiciness on the tip of the tongue. The second impression shows the suppleness and volume of the wines from the 'stony' vineyards, blending nicely with the mineral vivacity of the wines from the flint soils.

Chapillon "Siendra"

$20.00

Argon, Spain - With a distinguished, subtle violet aroma, combined with intense black fruits and a generous autumnal aromas. The fresh mouthwatering blackcurrant hints tempt the palate for more. Where you find the grip of Cabernet Sauvignon and Syrah adds spice to the Grenache fruit which finishes with a fine natural acidity and
To order, please stop by or call us at (207) 502-7112 to place your Thanksgiving order.  Phone calls for Thanksgiving orders only, please.  Wine orders must be placed in person.

Order by Thursday, November 17th for pick up on Wednesday, November 23rd, 2022
Order pickup Deadline is 1:00 PM on Wed.

Please note: We will be closing at 1:00 PM on Wednesday, November 24th, 2022.
We will be Closed on Thanksgiving Day (11/24) and Friday, 11/25/2022.