Before Boulangerie, Kennebunk did not have a bakery. That is, Kennebunk did not have a proper bakery.  There are plenty of lovely bakeshops and cake shops and bagel shops in town, but no proper bakeries.   A place where bread is mixed and proofed for hours, and baked in the dark of morning, sending warm yeasty aromas wafting down the street as a harbinger of dawn.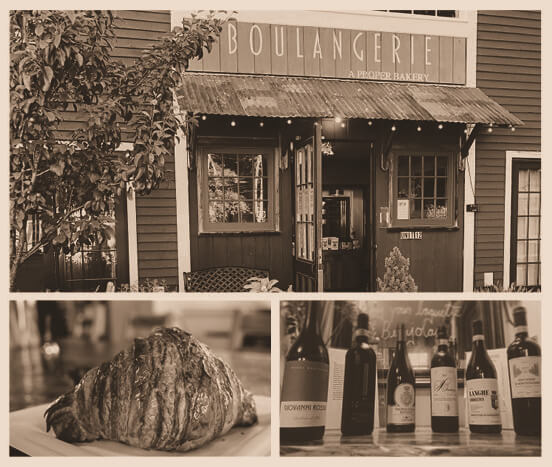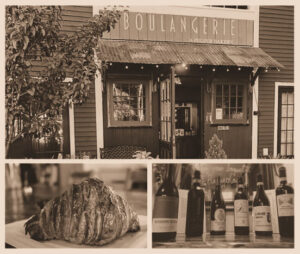 Boulangerie, A Proper Bakery, opened in May of 2015. In 2019, Michelle McGuire took over leadership of the bakery and continues as a driving force for quality, tradition and hospitality. The original starters (a stable culture of natural yeast maintained over time to act as a leaven in bread dough) are still used to this day for the various sourdoughs and levains baked daily at Boulangerie. A carefully curated wine selection was added to the menu of offerings at Boulangerie in 2020. An onsite Sommelier assists all guests with wine selections for all occasions.
Michelle was raised within the hospitality industry at the restaurant her family owned and operated in Connecticut. She pursued her passion by attending the Cornell School of Hotel Administration and attaining a Bachelor's Degree in Food and Beverage Management. Michelle spent many years working within privately owned fine dining restaurants. She had the opportunity to live in multiple countries and domestic cities continuously learning about cuisine and food trends. Ownership of Boulangerie Bakery is her final stop within the hospitality world.
The Boulangerie bakers continue to collaborate and create new variations of classics – such as the Everything Croissant – Butter Croissant filled with Chive Cream Cheese and sprinkled with Everything Topping. In addition to bread, Boulangerie offers traditional pastries such as a variety of croissants, scones and muffins. The lunchtime menu includes chicken salad, a super kale salad, a cheese plate, soups and a selection of both wedge and baguette sandwiches.
Supporting Maine farmers and businesses is a priority at Boulangerie. Whenever possible, ingredients are sourced locally. From the eggs in the dough to the cream in the roasted coffee, Maine Made and New England sourced is featured as often as possible. Honey, cheese, coffee, tomatoes, beer… the list goes on and on. In addition to supporting local business, Boulangerie supports local charitable organizations on a daily basis including the COS (Community Outreach Services). Boulangerie features a "Loaf of Love" – where a guest may purchase of loaf of bread at a discounted price which in turn the bakery bakes and delivers to the COS for those in need.
Boulangerie, A Proper Bakery, is located in Downtown Kennebunk, just behind the Waterhouse Pavilion. The interior of the big, red barn, which dates to the early 1900s, was finished using reclaimed wood, stained glass, cornices and antique fixtures. The space is unique, warm and inviting. A lot like Kennebunk itself.