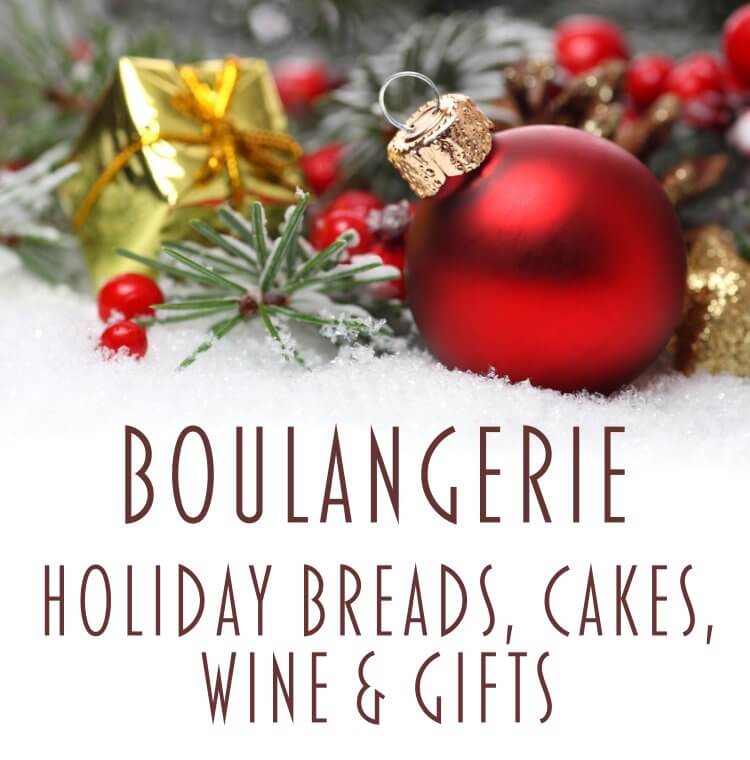 Order by:  Friday, December 17th for:
Pick up Wednesday, Thursday, or Friday December 22nd, 23rd and 24th 
Tourtiere

$42.00

Traditional 9" Pork Pie made with White Wine, Bay Leaf, Cinnamon & Cloves.
Serves 8+

Stollen

$21.00

Rich German bread studded with candied orange & lemon, almonds, marzipan, spices & Rum.
Serves 8+

Sean's Mulled Wine Christmas Cake

$30.00

Chocolate, clove, mulled wine cake with Orange Glaze. A taste of Christmas!
Serves 8+

Dairy Free Gingerbread Loaf

$18.00

Rich, Dark, Dense & Delicious
Gluten Free option available!
Serves 6+


Frozen Cinnamon Rolls!

$4.25 each

Bake at home. It's simple!

Quiche - 11 Inch

$35.00

Choice of 2 Flavors: Ham, Cheddar & Chive or Broccoli & Cheddar
Serves 8
Sommelier Curated Holiday Wines
Available in Whole Case (12 bottles) or Half Case (6 bottles)

The run up to the holiday's can be pretty crazy, to say the least! When it comes to your wines, let us do the hard work for you this year, giving you one less thing to  worry about.

Our Sommelier curated mixed cases are the perfect answer. Each case celebrates a selection of some of our favorite and best selling wines, all from exceptional producers. All cases come complete with sommelier tasting notes.

Please inquire about the different levels!
"Winter Wonderland"

Whole case (12): $180, Half case (6): $90

This case brings together some of the best-selling wines and rising stars from across our portfolio. Perfect for enjoying with friends and family.

"Happy Holidays"

Whole case (12): $250, Half case (6): $125

Packed with some of our sommelier favorites, these wines are perfectly matched for seasonal food.

"Christmas Carol"

Whole case (12): $350, Half case (6): $175

Timeless classics from outstanding producers, wines that are truly fitting for a Holiday celebration.
More Gift Ideas:
• Gift Cards & Hand Picked Wine Selections
• Cookie Bags: Chocolate Peppermint or Lemon, Almond & Shortbread
• Chocolates: Boxed Toffee, Peppermint Bark, Peanut Brittle Dark Chocolate Almond Bark
• Child Stocking Stuffers from R&R Chocolates
• Bespoke Christmas Cards by Cindy Lu
Revised December 2, 2021