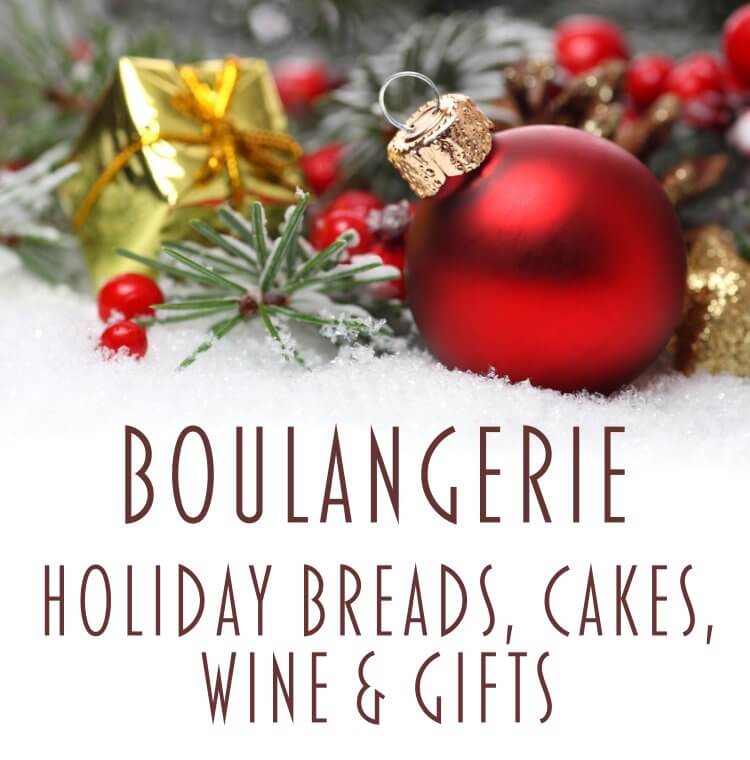 Order by:  Friday, December 18th for:
Pick up Tuesday, Wednesday or Thursday December 22nd, 23rd and 24th 
Tourtiere

$35.00

Traditional 9" Pork Pie made with White Wine, Bay Leaf, Cinnamon & Cloves.
Serves 8+

Stollen

$15.00

Rich German bread studded with candied orange & lemon, almonds, marzipan, spices & Rum.
Serves 8+

Sean's Mulled Wine Christmas Cake

$25.00

Chocolate, clove, mulled wine cake with Orange Glaze. A taste of Christmas!
Serves 8+

Dairy Free Gingerbread Loaf

$18.00

Rich, Dark, Dense & Delicious. Dairy Free!
Also available without GLUTEN!
Serves 6+


Frozen Cinnamon Rolls!

$3.25 each

Bake at home. It's simple!

Quiche - 11 Inch

$35.00

Choice of 2 Flavors: Ham, Cheddar & Chive or Broccoli & Cheddar
Serves 8-10
Featured Holiday Wines
Felsina, Chianti Classico, Italy

$28.00

Deep, attractive ruby red color. Elegantly fruity nose, with marked scents of wild red berries foregrounding nuances of mixed spices. The palate, too, shows excellent fruit supported by judicious tannins. Lengthy finish.

Bodegas Ondarre, Rioja Reserva, Spain

$19.00

Aromas of cherry, berry, tomato sauce and vanilla are smoky and slightly tarry. A flush, full mouthfeel is lifted by core acidity, while flavors of blackened spice, tobacco, toast and cassis finish with classic Rioja notes of vanilla, mocha, toast and warmth.

Tabali, Sauvignon Blanc, Limari, Chile

$14.00

This Sauvignon Blanc shows the unique character of the Talinay terroir. On the nose, it displays great elegance and extraordinary minerality, with alluring perfume of spring flowers and citrus, in perfect balance with a crisp, lively and very complex palate.
More Gift Ideas:
• Gift Cards & Hand Picked Wine Selections
• Cookie Bags: Chocolate Peppermint or Lemon, Almond & Shortbread
• Chocolates: Boxed Toffee, Peppermint Bark, Peanut Brittle Dark Chocolate Almond Bark
• Child Stocking Stuffers from R&R Chocolates
• Bespoke Floral Centerpieces by Fleurant