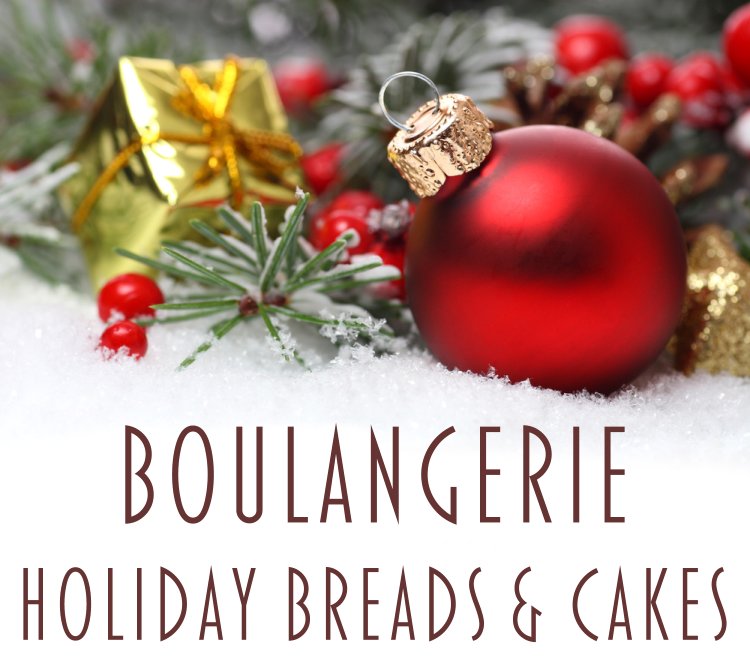 Order by:  Tuesday, December 19th for:
Pick up Friday, Saturday or Sunday,  December 22nd, 23rd and 24th 
Babka

$10.25

Braided brioche dough rolled with layers of Almond Paste, Toasted Pecans & Candied Orange.
Serves 8

Stollen

$12.50

Rich German bread studded with candied orange & lemon, almonds, marzipan, spices & Rum.
Serves 8-10

Gingerbread Loaf

$12.00

Rich, Dark, Dense & Delicious. Dairy Free!
Also available without GLUTEN!
Serves 8


Frozen Scones!

$3.00 each

Bake at home. It's simple!
Your choice of Blueberry or Bacon, Cheddar & Chive Scones

Frozen Cinnamon Rolls!

$3.25 each

Bake at home. It's simple!
Cinnamon Rolls available With or Without Raisins

Quiche - 11 Inch

$25.50

Choice of 3 Flavors: Salmon & Dill; Ham, Asparagus & Cheddar; Tomato, Spinach & Goat Cheese
Serves 8-10

Cookie Tins: Assorted

$25.00

Chocolate Peppermint Crinkle Cookies , Lemon & Hazelnut Shortbread , Chocolate Chip Cookies*, Kitchen Sink Cookies, Molasses Ginger Cookies, Coconut, Dark Chocolate & Sea Salt Macaroons*
*Available Low Gluten – Just Ask!

More Gift Ideas:
Gift Cards! Spiced Nuts! Cookbook! Chocolates!
Local Jam, Honey & Olive Oils…